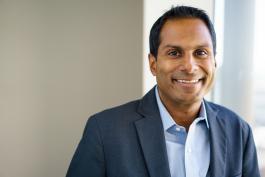 Suneil Koliwad MD, PhD
UCSF Diabetes Center Profile:
http://www.diabetes.ucsf.edu/suneil-koliwad
Suneil Koliwad received his B.S. in Psychobiology from The University of California Los Angeles in 1992, and his Ph.D. (1995 in Molecular Physiology and Biophysics) and M.D. (1999 with high honors) from Baylor College of Medicine in Houston, TX. He then did a residency in Internal Medicine and Pediatrics at Baylor College of Medicine, finishing as Chief Resident in 2002. Dr. Koliwad arrived in San Francisco in 2003, and trained in Endocrinology at UCSF from 2003 to 2006. He completed a postdoctoral fellowship at the J. David Gladstone Institutes, where he developed an expertise in the fields of lipid metabolism and macrophage biology. He became an Assistant Professor of Medicine in in the Diabetes Center at UCSF in 2011 and holds the Gerold Grodsky, PhD/JAB Chair in Diabetes Research at UCSF. He is also a member of the UCSF Biomedical Sciences (BMS) Graduate Program and of the UCSF Liver Center. He is a Board-Certified Endocrinologist, Internist, and a specialist in thyroid ultrasonography.
Dr. Koliwad is a member of the American Heart Association, American Diabetes Association (ADA), Endocrine Society, and is President of the San Francisco Bay Area Community Leadership Board of the ADA. Dr. Koliwad has received many accolades for his clinical and scientific teaching and places a high value on positive scientific and career mentoring within his laboratory. He was recently selected to take part in the UCSF-CORO Leadership Program for Scientific Investigators, and is actively engaged in promoting individual development and successful group dynamics within this laboratory. He has several active grants and has received several awards targeting early career investigators.
Dr. Koliwad's areas of scientific expertise include lipid and energy metabolism, inflammation, innate immunity, and neural circuits controlling appetite and peripheral metabolic pathways.
Apart from science, Suneil's passions include his family, travel, movies, baseball, and collegiate sports.
---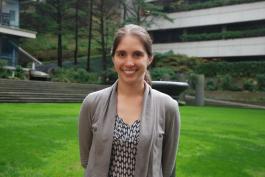 Megan Robblee
Originally from Washington State, Megan studied animal science at Cornell University before trading her pitchfork for a pipette. After a two year interlude as a technician in an atherosclerosis lab at Rockefeller University, she joined the UCSF Biomedical Sciences graduate program in 2010 and the Koliwad lab in the summer of 2011. Megan is investigating the mechanisms by which saturated fatty acids induce ER stress in macrophages and dendritic cells and the functional significance of this response in diet-induced obesity and metabolic disease. Outside of lab, Megan spends much of her time running and training for marathons. She also enjoys hiking, cooking, and exploring San Francisco's food scene.
---
Martin Valdearcos Contreras, PhD
Martin grew up in Andalucía, Southern Spain where he got his B.S in Cellular Biology at University of Granada. He later moved to Castile and León where he received his doctorate in Biochemistry and Molecular Biology from the University of Valladolid. He joined the Koliwad Lab in September 2011 and his main research project is focused on understanding the functional role of microglia (the resident macrophage cells in the brain) in diet-induced hypothalamic inflammation, leptin resistance and obesity. When he is away from the lab, he enjoy spending time with friends exploring the Bay Area, traveling, hiking and sports.
---
Diana Alba, MD
Diana Alba, MD, grew up in Colombia. She received her medical degree from New York Medical College in 2010. She completed internal medicine residency training at the University of Miami/Jackson Memorial Hospital before coming to UCSF for fellowship training in Endocrinology, Diabetes and Metabolism. She joined the Koliwad lab in July 2014. Along with Dr. Koliwad, Diana has spearheaded the development of the Inflammation, Diabetes, Ethnicity and Obesity (IDEO) cohort, a well-characterized group of adults across three distinct ethnic groups (Hispanic, Chinese, and Caucasian) living within the San Francisco Bay Area and representing an exceptionally wide range of body mass index (BMI) values. She has a particular interest in the molecular mechanisms underlying obesity, and has focused her attention on better understanding how these mechanisms can be used to derive precise, personalized, and ethnically specific biomarkers, preventative strategies, and therapeutic approaches for clinical use.
Outside of the lab, Diana loves to explore the bay area, volunteering at the SPCA, and traveling whenever she gets a chance.
---
Hui (Annie) Wang
Hui, a.k.a Annie, is originally from China. She has been in San Francisco for 15 years and has worked as an SRA at UCSF for the last six. She loves her job and likes the people and culture at UCSF. When she's not wrangling mice and PCR-ing up a storm, she likes to swim, jog, plant and cook, but not all at the same time
---
Jeffrey Farooq 
---
Grace Wei 
---
Lily Yu
Lily was born and raised in SF; she loves the foggy city by the bay. She spends most of her time raising her boys and enjoying them before they're all grown up. She would love to travel, especially to Europe with her husband, take dance classes, shop with her girlfriends and hang out at the spa!! Lily's been working at the Diabetes Center (DC) for 11 years and assisting Suneil since Spring of 2011. She loves the people at the DC!
If you are interested in joining the Koliwad lab, please contact Dr. Koliwad at [email protected] to inquire about open positions.